Exterior House Painting: A Do-It-Yourself Project?
Is exterior house painting a do-to-yourself project? Frugal homeowners and handymen offer tips and guidelines for painting the exterior of a 2-story home yourself.
Dear Dollar Stretcher,
The exterior of my house needs to be repainted (the paint is at least 15 years old and is an ugly color too!). I just had it priced and it's over 2 months salary for me.
I'm nervous about doing it myself. It is a 2-story house, 24′ x 34′. If it wasn't 2 stories, I would be fine. I need info from other people who have done it. I really don't know how big this project is. I have one friend who would put in a lot of hours helping me. My significant other is afraid of heights, so he would paint the bottom level but not help with the top. We have a tool lending library so I think I could get a pressure sprayer to clean the house and a ladder.
Does anyone have any suggestions?
Heidi O.
Is Exterior Painting of a Two-Story Home a DIY Project?
We reached out to our frugal readers, both homeowners and handymen and women, to see if this type of project is doable for the average homeowner. Read on for the helpful submissions we received on exterior house painting for DIY homeowners.
Use Extensions
Try the extension handles that add up to 10′ to the length of a paint roller or painting pad. I used them for areas I was too frightened to paint by ladder and it worked like a charm. I used the painting pad because it is far more forgiving of error than a roller, gets into nooks and crannies better, and holds the paint without the dripping associated with a roller.
John K.
Start living better for less.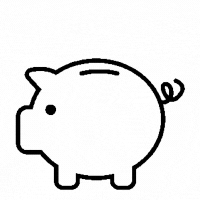 Subscribe to get money-saving content by email that can help you stretch your dollars further.
Twice each week you'll receive articles and tips that can help you free up and keep more of your hard-earned money, even on the tightest of budgets.
Subscribers receive a free copy of our eBook Little Luxuries: 130 Ways to Live Better for Less.
We respect your privacy. Unsubscribe at any time.
Find a Handyman Who Does Exterior House Painting
Try calling fix-it people. I found a retired contractor who charges $150 a day flat fee to do anything I want. Including house painting. He is still licensed and bonded. Important to get someone bonded.
Anyway, even their hourly rates are cheaper than a professional painter's rates.
Mary
Scaffolding Helps
I have a two story house that I painted a couple of years ago. The first thing is not to use a ladder. Instead rent scaffolding. Places that rent tools, etc. usually carry scaffolding and it is cheap and MUCH safer.
You might also consider spraying the paint on, then brushing it in. It combines the best of both techniques and gives you better coverage than spraying alone. If you are spraying, remember to remove all screens and storms, cover the windows with newspaper or brown paper. Paint them and your trim last.
Kathy E.
Why Paint the Exterior of Your Home?
Years ago, after receiving a hefty bid for having the house painted, I investigated having siding put on the house. My husband had painted the house several times. He said that when he died, the first thing he wanted me to do was to have siding put on the house. It seemed sensible to me to take the opportunity before that time occurred.
It was not quite twice the cost of having the house painted, it insulated the house so that our heating and air conditioning costs were less, and we never had to have it done again. It is pretty, clean, and forever. I recommend it.
Janet A.
Exterior House Painting Advice from a Pro
I have been a house painter for 43 years now. It's amazing how most people are shocked at the bids they receive. I know the price she got seems like a lot, but the paint is 15 years old and no doubt in terrible shape. A lot of paint companies will work with you and do as much or as little as you want them to. Let them do the nasty stuff. Pressure cleaning, scraping, priming, caulking, etc. You could do the painting and it would go much smoother. A professional could do all the work in about two weeks. When the homeowner does it, it takes about three times as long on average and ends up looking like the devil.
The outside of a house needs painting about every 5 to 7 years. If done on schedule, it takes a minimum amount of paint and labor. Good luck and God bless for trying it yourself.
Stuart K.
No Rush
My husband and I just went through the same experience. We have a very tall Queen Anne Victorian that is two stories, plus an attic with several tall gables. Having the painting done professionally would have blown our budget for a long time. So, after discussing it with my reluctant husband, I went to the hardware store and bought the best Wagner power sprayer they had. It comes with a backpack that holds a gallon of paint.
We decided not to over do it on this project. Since it is summer, and the heat is on, we dedicated three hours a day to the actual painting, plus about 15 minutes to set up and 20 to clean the sprayer. We finished in four days. Keep in mind that we did not have to do any scraping first, but if you have peeling paint, it is a must (but pretty much self-explanatory). Now, you will need several rolls of wide masking tape for around the windows (unless you want to spend the next few days scraping paint off with a razor blade) and you will probably want a contrasting color on the trim around windows and doors, etc. We decided it would be easier to tackle this with a paint brush than to try to fight the splatter of the power painter.
As for the ladder work, it really wasn't so bad. After the first couple of climbs, you get used to the feel of the ladder and, if you can remember not to spend a lot of time looking down, you won't even notice the height while you are hard at work. It is somewhat tedious having to keep climbing down and moving the ladder, and you can paint on both sides of the ladder to get double the effort from one climb, but be sure to go back over the spots where the ladder rested after your next move.
When we were finished, our neighbors were quite impressed with us, and I must say I get a feeling of pride every time I look at our pretty "new" house. The final cost was about $400. $160 for the power sprayer, $56 for renting a power washer, and the rest for paint and tape (we already owned the paint brushes). A far cry from what it would have cost us to have it done professionally (and not bad for four days' work). The power sprayer made all the difference.
Sharla
Off Peak Prices
My suggestion is to get as many estimates as possible. In my area, there are many small contractors. Make sure the contractor has their own insurance, but it's worth it to shop around. You might also wait until fall  when painters are less busy. This is the peak of their season and prices are going to be higher. The house has waited 15 years, what's another couple of months more?
P.
Do Bottom Yourself
When we painted our last two story, we had a two story room where the living room was vaulted. We painted all but that area and hired a painter to paint the 2nd story.
B.
A Retired Painter's Advice on Painting the Exterior of a Two-Story Home
Painting the exterior of a house can be a very daunting project and, if done incorrectly, will create even larger problems for you!
I owned and operated a professional house painting company in East Hampton, New York for over 12 years and had to sell the business when my arthritis made it impossible to do that type of work. From a professional standpoint I can tell you that to do the job properly you will need more than just a "willing friend," a ladder and a power washer. Let's start with the current condition of the house !
Is the paint peeling? If so, you will need to remove all the loose paint. Some can be removed with a pressure washer but the rest must be scraped off and any solid material that remains must be feathered with a sanding machine to break down the edges. The next step would be to prime all the bare wood, preferably with a bonding primer.
Is mildew a problem in your area? If so, you must remove all traces of the mildew. This is normally done using a bleach and water combo or a commercial solution. Then you would need to pressure wash the house. A pressure washer in the wrong hands can do serious damage to wood surfaces and washing the second story on a house is out of the question for someone who is inexperienced.
And all this is just the prep work! Depending on the material you use to paint the house, you would need to be aware of things like the moisture content of the wood, the correct tools to do the job, the correct material for the job (paint or stain), etc., etc., etc.
I am not a professional painter's advocate nor am I trying to dissuade you from doing the job. My main purpose is to make you aware of all that is involved in doing the job properly.
Here are some thoughts on easing the budget squeeze a professional job would create. At the very least, obtain a number of estimates from different painting contractors. While the lowest price doesn't necessarily mean the best job, you might be surprised at the range of prices. Also, get all estimates in writing so that you can compare apples to apples. And always question anything you are unsure of.
When you select a reasonable contractor or two, ask them about off-season rates. Sometimes a contractor will lessen the price if he can book your job at the end of the exterior season or the beginning of the new one. Another thought. On occasion I would lower the price of a job if the customer would allow me to use the job as a fill-in. That meant I could bring a crew to a job and work on a portion of the house while I was in-between jobs. That was helpful to me because it allowed me to have work while I might be waiting for another contractor to finish a house we were scheduled to do next. Just be sure to get guarantees that the quality of the work will not be compromised in any way.
Ask for a materials list and materials cost breakdown on your estimates and then visit your local paint shop and price out the materials yourself. Many paint contractors add a "handling charge" to the cost of the materials in your estimate and they will usually over-estimate the total gallons required. This is not poor business ethics but it's their way of insuring that they won't have to absorb any cost overruns. Ask the contractor if you can supply the material. Also, ask the paint store if you can return any unused, unopened material for credit.
Talk to the paint contractor you select about bartering. Do you or your significant other have a skill that could be used in the contractor's business? Are you a bookkeeper, can you write good ad copy? Use your imagination. Many contractors today are more than willing to barter all or part of a job's cost.
In summation, I think you should seriously weigh the pros and cons of doing the job yourself. I firmly believe in do-it-yourself but there are times when I know it makes more sense to hire a professional.
Tony