Dollar Stretcher Tips Food: 300+ Tips for Cutting Grocery Costs and Stretching Food Further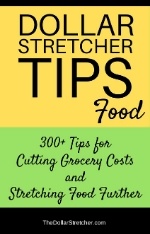 One of the easiest areas of the budget to control and reduce is food costs. 
Dollar Stretcher Tips: Food 
is a collection of 300+ tips that can help you do just that while keeping your family well-fed.
These tips have successfully helped many of our Dollar Stretcher readers. How do we know? Because most of these tips came to us from readers telling us exactly how their tip helped them reach reduce their food budget and free up extra cash for other things.
Dollar Stretcher Tips: Food has tips for:
finding small and big savings at the grocery store
storing and freezing foods properly in order to prolong the life of food and prevent food waste
stretching foods further
making more foods at home cheaper than you can buy them at the store
using meal planning and make ahead meals to avoid the high cost of the drive-thru and convenience foods
specific tips for saving on meats, produce, snacks, beverages and spices
entertaining and eating out for less
and more
This one small investment can save you money month after month on your food bills. And just one or two of these tips covers the cost of the ebook itself. Why not start saving on your grocery bills today?