When to Break Up With Your Bundle
Internet/phone/cable bundle plans change periodically and fees creep up if you don't pay attention. Be an informed consumer and so you know when it's finally time to break up with your bundle.
That little bundle was so cute and convenient when you got it. It is just one bill, probably on autopay, but your bundle has become bulky, unmanageable, and even dangerous to your bottom line. When fees and increases bloat your phone, Internet and television bundle, it is time to break up!
Phone
Home phones are almost a thing of the past. Most people have moved to a totally mobile phone package. If you do cling to that home phone, you could be paying up to $80 a month. (See Centurylink rates.) Instead, look into Magicjack. It's a phone service that only costs $50 a year. That is a one-time fee, once a year. It runs through your Internet, but it works just like a regular phone line. We have had it for four years, and it works great.
Internet
Having access to the internet is no longer a luxury, but a necessity. Basic rates have climbed from a mere $20 to upwards of $70 a month. Thankfully, there are a lot more companies available, so you can use the competition to your advantage. First, call your current company and ask for a loyalty discount. If that doesn't work, call up a different company and see if they have new customer incentives. Make sure you read the fine print. Often, you are locked into a contract for one to two years or face stiff penalties.
We are still with Centurylink, but only because we have been with them for 25 years and are getting a loyalty discount of $38 a month. Here's one tip. Don't let your discounts expire. We had to pay an extra $78 a month because of a holiday weekend. I wasn't too pleased to say the least.
Start living better for less.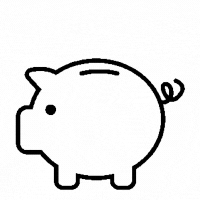 Subscribe to get money-saving content by email that can help you stretch your dollars further.
Twice each week you'll receive articles and tips that can help you free up and keep more of your hard-earned money, even on the tightest of budgets.
Subscribers receive a free copy of our eBook Little Luxuries: 130 Ways to Live Better for Less.
We respect your privacy. Unsubscribe at any time.
Television
A lot of households have "cut the cable" entirely and no longer have TV subscriptions. Instead, they take advantage of the many online streaming video sites like Netflix or Hulu
 for $12 to $20 a month. With today's smart televisions, you can tune into your favorite shows and movies or watch them through an Xbox or other gaming console.
In our household, we do watch a lot of television since my husband is disabled, so ditching the cable bill was a bit more complicated. I looked around and compared prices and packages. We settled on DishTV, which has overall been a good decision. Whenever I have a problem, the customer service team has been very helpful and accommodating. They recently offered a flex package that can be customized. For $59.99, I got 120 popular channels plus various other channels like local stations, sports, kids, variety, etc.
Sometimes it makes sense to bundle services together. If one company offers the package that works for you, with decent discounts, by all means bundle. Just make sure you are getting the best bang for your buck, because plans change and fees can creep up if you don't check them periodically. Be an informed consumer and know when to break up with your bundle.
About the Author
Shaunna Privratsky became an expert in personal finance out of necessity. Between writing, reading and gardening, she is always on the lookout for bargains. Visit her at The Discount Diva.