How Remote Careers Are Changing the Workplace
More remote work opportunities are available now than ever before. We explore some of the more common remote careers as well as how to best land a remote position.
Going to work used to mean a lengthy and uncomfortable commute to the office that everyone grows to hate from the very second they start doing it. But this is no longer the case for everyone. An increasing number of people go to work each day by switching on their home computers and logging into the office.
While many remote workers are freelancers in traditional at-home careers, many are employed by companies in need of remote employees to fill positions that used to require being stuck in an office.
Here's what you should know about the remote working phenomenon, why more companies consider it a viable option and how you can land a remote working job without getting caught in a scam.
Remotely: The New Way to Work
Even before COVID, it was estimated that 7 million people worked remotely. Because of the virus, over 3/4 of worldwide companies encouraged their employees to work from home at some point. Some of these workers have since returned to the office. But many companies have found perks in having employees continue their work from home.
According to Global Workplace Analytics, "a typical employer can save about $11,000/year for every person who works remotely half of the time." And a survey by FlexJobs.com revealed that 51% of respondents felt they were more productive working from home than in an office.
It turns out that taking your work home with you might not be the nightmare that people imagined, but instead an ideal where companies and employees meet in the middle.
Start living better for less.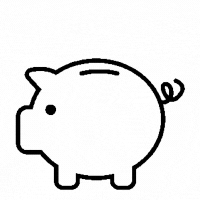 Subscribe to get money-saving content by email that can help you stretch your dollars further.
Twice each week you'll receive articles and tips that can help you free up and keep more of your hard-earned money, even on the tightest of budgets.
Subscribers receive a free copy of our eBook Little Luxuries: 130 Ways to Live Better for Less.
We respect your privacy. Unsubscribe at any time.
Some Remote Jobs Are Legitimate, But Not All…
There are many remote working opportunities out there that are from real companies, but with pay rates that are far below minimum wage or a workload that's considered close to illegal. These types of "remote" jobs are always more trouble than they're worth and often involve completing "micro tasks" for fractions of a cent.
Types of Remote Careers
Here are a few legitimate full and part-time remote careers to consider if you're currently searching.
Virtual Assistant
Virtual assistant jobs are close to a personal assistant, but with far less fuss. Sometimes it involves scheduling appointments and building contacts, but it can also involve contacting clients on a regular basis and keeping up with admin.
Social Media Management
If you have experience as a media professional going in, there's a lot of demand for remote social media management: This involves taking care of social media posts, often being involved in the posting and brainstorming aspects of what makes for good online promotion.
Programming
Programming experience can put you in the lead for jobs within the tech industry: There are many remote programming careers in various programming languages available for anyone who considers themselves proficient.
Voice-Over Artist
Being a voice-over artist takes more than just a good voice. It often requires proper training and a basic studio setup at home to pull off properly. With lossless file transfer and decent recording quality put together, many professional voice-over artists have taken to working remotely.
Technical Support
Most tech companies out there need tech support, and if you have experience in solving problems and dealing with customers, this could be the right choice. Some companies hire their tech support team through agencies, although many companies hire directly at better rates.
The Good and the Bad
Offers of remote work on social media are almost never legitimate, and any job offer with an exorbitant salary for too little comparative work is almost always a scam. The "work from home" schemes are still as popular as ever, but with the increase in real jobs that require working at home, they might be harder to recognize.
Legitimate remote working jobs will:
Never ask you to pay any fees at any point
Only come from reputable, registered companies
Only be advertised on reputable job boards or directly on the company website
If you aren't sure whether a job opportunity is legitimate, send the original company an email and ask them if the job application you've spotted is a real one belonging to them. If it isn't, they'll be quick to tell you.
If you don't have independent confirmation from the company claiming to be hiring that the original job application belongs to them, you could be dealing with a scam.
Finding a Remote Job
So, how can you find a remote job? Here are some tips.
Start with an update of your resume.
If your resume hasn't had a proper update since the early 2000s, it's where you should start. Why are you the right person for this job, and what experience do you have that makes you a valuable employee? If you don't have a way with words, hire a professional for help getting your resume up to date.
Search reputable job listing websites.
Most remote jobs will advertise through reputable job listing websites like Indeed.com that both companies and recruiters trust. Remote job and "work from home" offers on social media are often scams.
Browse through company websites.
Company and corporate websites usually have a page where they advertise job openings and vacant spots. Other than reputable job listing websites, your best bet for finding companies that accept remote work is here.
Update your home computer.
Doing most of your work from the comfort of your home computer will mean that your computer has to be able to keep up with what everyone else has right now. Run the most updated versions of the software that comes with the job and keep your work-related PC as secure as possible.