Cheap Ground Filler for Kids' Outdoor Play Areas
Kids can be hard on your yard. These tips can help you create a play area for them using a ground filler that is soft to play on, yet durable enough to last, too.
Dear Dollar Stretcher,
I have six kids and they can be really rough on our yard! We've set aside one large portion of the yard that I want to be for their toys and for them to play trucks and things on. My problem is that I don't know what to use as filler for that area of the yard.
Sand won't really work because I don't want it to turn into a big cat box. I want to be able to keep their large ride-on toys in that area, and it's really too big to cover. I know that filling it with dirt would just make for a lot of mud (which they would love, but I would hate!). I've thought about filling it with bark, but that may get expensive, and I know that the bark will just end up all over the yard and may not stay in the play area.
Does anyone have any ideas for inexpensive filler to use for this play area? Thank you for your help.
Mother Goose
Pine Shavings for Play Area Landings
We used to have a section in our yard for our kids with swings, overhead bars, and climbing towers. We filled the area with pine shavings. We were able to get large bales at the feed store. It will cling to clothes at first, but if you hose it down when you first spread it out, it will stay put.
Chris
Use Pebbles In Play Areas
How about pebbles? It is fairly inexpensive. The park near our home has it in the area around the play area, and it seems to protect the kids a bit when they fall.
Marcia
Start living better for less.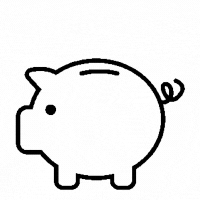 Subscribe to get money-saving content by email that can help you stretch your dollars further.
Twice each week you'll receive articles and tips that can help you free up and keep more of your hard-earned money, even on the tightest of budgets.
Subscribers receive a free copy of our eBook Little Luxuries: 130 Ways to Live Better for Less.
We respect your privacy. Unsubscribe at any time.
Pea Gravel for Landing Areas
Check into pea gravel. I have seen it used on many playgrounds. I am not sure of the cost.
The only big problem that I can see with it is that the kids sometimes like to throw it at each other. It is too small to hurt much, but not pleasant to be hit with. If you think your kids would do this, you may want to consider another alternative.
ST
Landings Using Recycled Mulch
The city parks in my town use the grass and tree clippings as mulch and they grind them up very fine and have layered it around the children's play areas of town. After Christmas the city has a tree-recycling program to help keep the trees out of the dump. It works great and weeds don't sprout up. If your child is allergic to wood pulp this would not work.
Another idea is pea size gravel in smaller designated area with edging to keep it contained.
SB
Free County Resources for Play Areas
I go to the county's recycling center, which has bark and wood mix. It's free and you can take as much as you need.
S. D.
Play Areas Using Grass Carpet
We use inexpensive grass carpet to cover areas in our yard where the kids play and have killed the grass. This can be removed and hosed down if need be as well as replaced when worn out.
Debra
Wood Play Fiber
Although this is not the most frugal way to go at first, I would suggest wood play fiber. It is expensive at first. However, it does not blow away and track out of the play area like other mulch like cover.
It also packs down so it creates a carpet like surface. It is what is required for schools in my state so that disabled persons could access the playground in wheel chairs. So far, it has not tracked into the house or needed replacement. We just rake it around. Wood play fiber is processed different than mulch.
SB
Check Out Local Barns for Landing Areas
Call your local barns or horse supply companies. Bulk sawdust is usually used to line horse stalls. It is dry, but very absorbent. Sometimes it can be dusty, depending on how fine it is ground. But it is cheaper than mulch, and better than mud!
Also, there is something available called "blue stone." It is basically ground up rubber, which is used to line horse-riding rings. It is soft (a good feature if kids fall hard on it), it doesn't create dust (like sand or dirt), and it won't be tracked in the house. It may cost a bit at first, but it will last longer than mulch, dirt, sand, or sawdust. Good luck with this project.
Mary