Is Warehouse Club Membership Worth the Cost for a Small Family?
by Dollar Stretcher Reader Contributors
You can save quite a bit buying in bulk with a warehouse club membership, but only if you purchase enough for the savings to offset the membership fee and you don't lose your savings to food waste. So is it possible for a small family to actually save with a membership?
Hello,
I am trying to determine if a warehouse club membership is worth the cost for our small family. We are a family of three trying to further trim an already tight grocery budget. I am sure large families can benefit from having a warehouse club membership, but is it a good source of savings for small families? I often see discounted memberships available for new members with enough perks to basically cover the first year's fee, but I don't want to join if we can't take advantage of buying in bulk due to our small family size. We obviously can't afford to waste food, which I know can be a problem when buying in bulk.
Connie
Time Is Money
If it's basically free, why not try it and see for yourself? On the other hand, we are a family of six and sometimes I wonder if it's worth it to pay for memberships. Most items do end up being cheaper, especially if you go to the one that has coupons. At the same time, you may want to think about how much space you have. Can you store multiple bulk items in a practical way? If you do take on more items, do you have time to clean around them and organize them and such? Everything we accumulate has a cost when we get it home. It takes time to take care of those items until they are used and, well, time is money.
Amanda
Warehouse Club Membership Not Worth the Cost
A small family can benefit from warehouse shopping in certain circumstances. I have limited my purchases to dry goods like cereal, packaged raisins, nuts, dog/cat food, etc. If you are willing to buy large packages of meat and divide them, it could work for you. I find that the large packages of produce are much too big for me to consume before they rot. Warehouse clubs are also great for buying large items like TVs and tires, but choices are limited and these are infrequent purchases. Some warehouse clubs have certain departments like a pharmacy or vision center that are open to everyone. Overall, I find that using coupons and sales at other stores yields similar savings, and I am less likely to buy more than I can use.
Barbara
Start living better for less.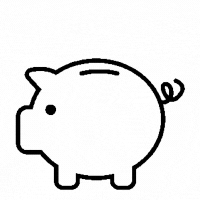 Subscribe to get money-saving content by email that can help you stretch your dollars further.
Twice each week you'll receive articles and tips that can help you free up and keep more of your hard-earned money, even on the tightest of budgets.
Subscribers receive a free copy of our eBook Little Luxuries: 130 Ways to Live Better for Less.
We respect your privacy. Unsubscribe at any time.
Plan on Getting a Freezer
You will definitely need a larger freezer than just the one with your refrigerator if you shop for frozen food in bulk. Also think about the gas and time you may use when shopping there. Mine is about 15 miles away, so I have to plan on half a day normally if I am shopping for a lot. (Traffic is bad in my area.)
Betty
Is Your Small Family Brand Loyal?
It depends on what you buy. I am not brand loyal and sometimes my family prefers the store brand. It was not worth $50 to get the yearly membership to save a few bucks for my family. However, if I was brand loyal and shopped certain name brands, I would certainly save money. Is it worth the membership cost? This depends on the savings. I would see if they offer a day pass and thoroughly check out their prices.
I found a great app called Price Cruncher that has really helped me compare prices. I was surprised how much I could save and one store I thought was a bargain store really wasn't. Know your prices!
As for a small family, if you are going to use the product and you have the room for storage, by all means, stock up on the sale price, but don't stock up just for the sake of stocking up.
Bonnie
Small Family Finds Warehouse Club Membership Useful
My family of three bought a BJ's Warehouse Club membership primarily for the privilege of using their gas station. The savings at the pump cover the annual fee. A disability prevents me from walking all over the huge store, so I rarely buy food there. However, a few times per year, I will shop for non-perishables like bulk toilet paper, laundry supplies, batteries, and etc.
Ceci
Join Another Small Family or Two
One method I've used in the past is to check with other small families in the area. Two to three families can split the membership fee. We schedule a day to go together and then divide any pre-packaged items and pre-cook future meals for the freezer.
Deborah
Know Your Prices
Absolutely, you can save money by shopping at a warehouse club for your small family. The trick is to package freezable things into dinner-sized quantities and freeze them. We call them "instant dinners." When we buy a bulk package of 15 sausages, we divide them up into five packages of three sausages per package (and label them). When it's time to plan tonight's dinner, we grab them from the freezer, pop them into the refrigerator to thaw safely, and we've got an easy main course. Regarding produce, we don't buy produce at warehouse clubs, unless we can freeze it, because the produce will go bad before we can eat it all. But, if your family eats a lot of produce, go for it! Non-perishable bulk items are simple to store on a shelf. Be sure to know what things sell for at other stores because not everything is cheaper at a warehouse club. Also, many times I can get generic store brands at grocery stores cheaper than I can get brand name brands at warehouse stores. So, know the prices of things and then stock up and freeze. Happy saving!
E
Test It Out with a Free Pass
You may be able to save a few dollars by joining a warehouse club. I'm single, and I have a membership to one. I find that getting gas for a few cents per gallon cheaper than the other stations in my area and some really good prices on purchases of nonperishable bulk items saves me money. The club brand items are comparable if not superior to name brand items at a reduced price. There is also the option of splitting a large purchase with a friend. That would give you the benefit of the good price as well as helping a friend. You have to use the club regularly or the membership fee would eat up any savings. Some clubs periodically offer a free pass that lasts a few days or so. Try to find one of those, check out their prices, and compare it to what you are spending now to see if it would be a savings for you. Don't forget to factor in the cost of the membership.
Eugene
Warehouse Club Savings for Things Other Than Food
My husband and I have a Costco membership for just the two of us. There are only about a half of a dozen food items we buy on a regular basis, but we have reaped huge savings on clothing, gasoline, eyeglasses from their optical department, and a new car using their auto program. Think about the other types of items you might want besides food. I haven't used Costco's auto/tire department yet, but I will probably head there when I do need tires.
Jean
Be Realistic About Cooking Habits and Amount Small Family Eats
We are only a household of two, but our Costco membership saves us hundreds of dollars every year. I track our savings in a spreadsheet (by comparing Costco prices to regular grocery or discount store prices by ounce or item), and we save $700 to $800 per year. Our membership doesn't renew until November and we've already saved $630 this year!
We are pretty strict about what we buy, though. We almost never buy fresh produce at Costco (unless we're canning) because it's difficult for the two of us to eat it all before it goes bad. We stick mostly to dry goods, canned goods, freezer items, and OTC allergy medicine.
You need to be disciplined about rotating the stock in your pantry and keeping an eye on expiration dates, and you will need proper storage containers to safely store large amounts of dry goods like flour or sugar. Though food safe containers are a one-time expense, they can be pricey. Also, if you really don't cook from scratch or bake your own bread, having a case of blueberries or a giant bin of flour isn't going to magically change your habits. Be realistic about both your cooking habits and the amount your family eats over time.
Buying in bulk works very well for us. Living in a small apartment, we've actually found storage space to be more of a problem than food waste.
Sarah
Warehouse Club Membership Provides Non-Food Perks
Look at non-food perks for the warehouse club. My family is now down to two adults and one dog and I still save a bit more than break-even. I buy paper products, detergent, pet food, vitamins, shampoo, deodorant, etc. Additionally, I get discount gas, prescriptions, eyeglasses, travel, tires, car batteries, and occasionally household items like tools, furniture, and cookware. I love their home-brand quality and food court, so I am renewing yet again.
T Katie
Split and Save
I share a membership with my sister. I have a husband and one kid, but at her house, it's just her and her husband. The guys like it for beer and sporting goods, while my sister and I use it for household purchases and food. Sometimes we split packages to make the large sizes more manageable. You could also put a membership on your holiday wish list, so there's no up-front cost for you.
Teresa